The answers are based on our knowledge and our experience
F. A. Q. about Golden Horn (Bol, Croatia)
How far is Golden Cape (or Golden Horn) from Split?
It is 25NM far from Split. It takes around 40 minutes to get to Golden Horn – Bol by the speedboat.
Is there enough shade to spend the whole day on the beach?
Yes there is, the whole wood is covering almost the whole beach so there will always be enough shade for everybody.
What to do or visit while visiting the Golden Horn?
There is so much to do there. There is option to rent a boat, jet ski, a lot of different sea sports, kitesurfing, windsurfing, also just pure swim or snorkel in that place with crystal clear water and so beautiful beach. There is also trampoline on the water but also many other fun gadgets to make your day. Amoung this, there are many nice restaurants to have a meal and the Bol town which is beautiful to visit is only 10 minutes walking from the beach.
How far is Golden Cape from Supetar?
It is around 40 kilometers far from Supetar.
Why is Golden Horn the most popular Croatian beach?
Because it is unique as it's point is constantly changing its shape but also because it is very very beautiful and full of content so everybody can find something to do for itself.
Is it possible to surf on Golden Cape?
It is not possible to surf there because there is not enough waves but it is possible to windsurf or kitesurf there.
How much it takes from Split to get to Golden Horn by boat?
It takes around 40 minutes by the speedboat or around an hour by catamaran liner from Split.
Is there enough shops and restaurants around the Golden Cape beach?
Yes there are many restaurants there.
Is Bol town far from Golden Horn?
Bol town is just 10 minutes walking from the Golden Horn.
---
BOL – ISLAND OF BRAC
The symbol of Bol, the unique and most beautiful Brac beach, "Zlatni rat" (Golden Cape or Golden Horn) is one of the most beautiful pebble beaches on the Croatian coast. With its beauty and constant changing of its shape, it constantly amazes us with its uniqueness. The beach itself is very beautiful but also over 450 meters long, and is covered with forests all along and beyond, which offers salvation on hot summer days with its deep shade. In addition to the shade in the forest there are many facilities such as restaurants, cafes, massage facilities, showers and dressing rooms, and much more.
GOLDEN HORN OR GOLDEN CAPE – BOL (CROATIA)
The uniqueness of the Golden Cape (Golden Horn) is manifested in the fact that it is constantly changing its shape. Namely, its "punta" (point) is constantly changing under the influence of waves, wind and other sea activities such as sea currents and tides. Sometimes it is possible to see how the beach is changing shape or moving from one side to the other, creating an image even more beautiful and marvelous than the previous one.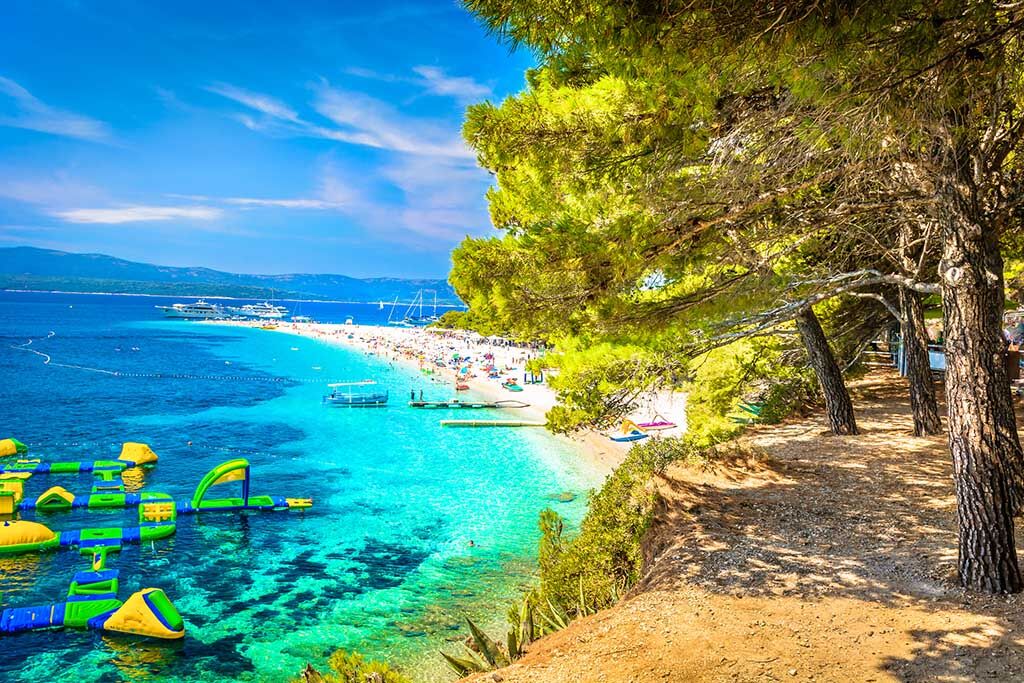 NEAR PLACE BOL
Zlatni Rat beach (Golden Cape or Golden Horn) is only 2 kilometers from Bol and can be reached by car or an easy about 20 minute walk by the sea. In the summer, a small tourist train as well as tourist boats departing from the port of Bol departs every half an hour.
Interested in private tour or daily tour?
We are here for you!
Contact us via chat, e-mail or mobile phone.