The answers are based on our knowledge and our experience
F. A. Q. about Blue Lagoon Croatia
how far is blue lagoon from split?
Blue Lagoon in Croatia is 13NM far from Split. It takes around 30 minutes by speed boat to get there from Split.
how far is blue lagoon from trogir?
Blue Lagoon is 7 NM far from Trogir and it takes arround 15 minutes by speed boat to get there from Trogir.
What if we want to be alone on boat, without other guests?
In that case we can offer you private tour, also with some price discount included and the possibility of changing route plan to your own plan.
What to bring on boat?
Waterproof / windproof clothes, change of clothes, hat, sunscreen, sunglasses, towels, swim suits, flat shoes (no heels).
How to get to Drvenik island and Blue Lagoon?
Best way is to take the speed boat trip from Split or Trogir but there are also cruise tour boats that can take you there every day.
Is Blue Lagoon Croatia worth a visit?
It is definitely worth a visit. It is beautiful lagoon with a crystal clear water where you can enjoy sunbath, swim, snorkel, and relax in beautiful natural inviroment.
Does the blue lagoon trip still go out if it's raining?
If the weather is rainy and really unsuitable then the tour will be cancelled in which case all guests will receive a 100% refund or the option of rescheduling.
How many people will be on board?
There will be up to 12 passengers plus 2 crew members, all together 14.
Can you swim and snorkel at Blue Lagoon Croatia?
Yes, you can swim and snorkel at Blue Lagoon.
What to do or visit at Drvenik island?
Drvenik is small island where you can enjoy beautiful undisturbed nature such as beaches and coves. There is small village where you can buy necessaries and Blue Lagoon (Krknjaši beach) you could visit. At the Lagoon you can find beach bar and restaurant where you can enjoy food or drinks and music.
When is Blue Lagoon Croatia busiest?
It is busiest from June to August and from 10 am to 5 pm every day during that period.
Where is a meeting point for split2go travel agency?
In terms of meeting point of the tour, our guests who booked the speedboat tours (Blue Cave Tour, Blue Lagoon Tour) should arrive at Matejuška 20 minutes before the tour start where our host will take care of you. You should bring your voucher there.
BLUE lagoon TOUR FROM SPLIT – DOES THE TOUR GO JUST FROM SPLIT?
Mostly it is going on from Split, but it can be arrange from island Hvar, town Trogir, island Brac, island Vis, island Šolta and other places, especially for large group, however it depends on arrangement. PRIVATE TOURS AND TRANSFERS go wherever needed of course.
BLUE LAGOON TOUR – ITINERARY
Split2go agency organizes Blue Lagoon Tours. Find out more about Blue Lagoon Tour Itinerary at the link that follows: Blue Lagoon Itinerary
BLUE LAGOON CROATIA OF DRVENIK ISLAND
The island of Drvenik Veli is known for its untouched nature, peace, tranquility and turquoise color of the sea. Sandy beaches are a rarity in Dalmatia, so this sandy bay offers various benefits for rent a boat day trips, boat excursions and fun for all ages, including our youngest. All visits to this Croatia Blue Lagoon take place by sea, of course, but this is no problem, since the bay has a beautiful dock for ships and the island itself is not high, so communication and movement around the island is greatly simplified.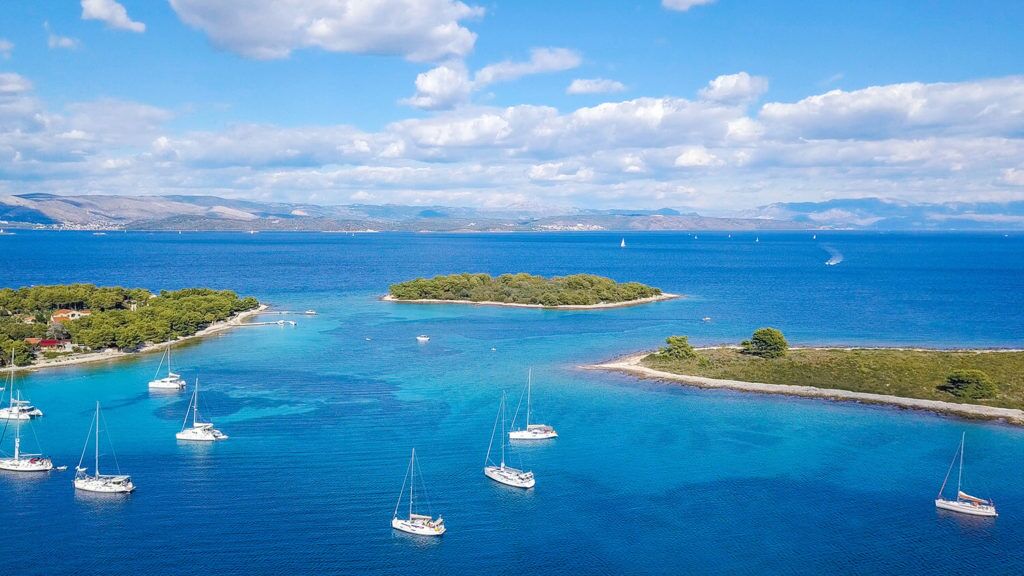 ISLAND DRVENIK VELI
On the island of Drvenik Veli, probably the most famous and popular cove and beach is definitely the cove and the beach of the same name called Krknjasi or better known (Blue Lagoon). The island of Drvenik itself is located about 14 nautical miles away from the city of Split and about 7 nautical miles from the city of Trogir to which it belongs administratively. But now back to our beautiful Blue Lagoon and the island of Drvenik Veli, where we are located, to describe their position in more detail.
Popular Krknjaši beach
The island is probably best known for its beautiful Krknjasi beach. This beautiful Blue Lagoon on Drvenik is located on the southeast coast of the island. The bay is surrounded and protected by two islands, Veliki and Mali Krknjasi. Krknjasi bay is popular for its beautiful shallow sandy beaches. Along the coast you can find many small coves with shallow sandy beaches. If you are looking for a quieter beach that is suitable for families with young children, you are in the right place. You can also find really good Dalmatian restaurants with a great selection of fresh fish and authentic dishes. In recent times, the island has a "good time" during the day in the form of a beach bar, located right by the beach, so those who want good music, drinks and dance will also come into their own.
Interested in private tour or daily tour?
We are here for you!
Contact us via chat, e-mail or mobile phone.