The answers are based on our knowledge and our experience
F. A. Q. about Blue Cave Croatia
I purchased my ticket online, what do I do next?
After purchasing a ticket online you will receive an email with a voucher. Print out that voucher and bring it with you to the check in point identified on the voucher. Ticket also include entrance to Blue Cave Croatia on island Bisevo.
What does this trip includes except boat ride
Trip price also includes fresh water on board, insurance of all passengers, equipment for snorkeling, tickets for the Blue Cave, lifejackets.
What if we want to be alone on boat, without other guests?
In that case we can offer you private tour, also with some price discount included and the possibility of changing route plan to your own plan.
WHAT TO BRING ON BOAT?
Waterproof / windproof clothes, change of clothes, hat, sunscreen, sunglasses, towels, swim suits, flat shoes (no heels).
WHERE IS BLUE CAVE CROATIA?
It is located on the island of Biševo, in front of Komiža town on island Vis. It is 40 Nm far from Split or Trogir and arround 20 NM from Hvar town.
Is Blue Cave Croatia worth a visit?
It is beautiful natural phenomenon that many people visit every year and they are delighted so definitely YES it is worth a visit.
Does the blue cave trip still go out if it's raining?
If the weather is rainy and really unsuitable then the tour will be cancelled in which case all guests will receive a 100% refund or the option of rescheduling.
How many people will be on board?
There will be up to 12 passengers plus 2 crew members, all together 14.
Where is a meeting point FOR SPLIT2GO TRAVEL AGENCY?
In terms of meeting point of the tour, our guests who booked the speedboat tours (Blue Cave Tour, Blue Lagoon Tour) should arrive at Matejuška 20 minutes before the tour start where our host will take care of you. You should bring your voucher there.
blue cave tours from split – DO THE TOURs GO JUST FROM SPLIT?
Mostly it is going on from Split, but it can be arrange from island Hvar, town Trogir, island Brac, island Vis, island Šolta and other places, especially for large group, however it depends on arrangement. PRIVATE TOURS AND TRANSFERS go wherever needed of course.
Blue Cave Tour – Itinerary
Split2go agency organizes Blue Cave Tours. Find out more about Blue Cave Tour Itinerary at the link that follows: Blue Cave Itinerary
blue cave on island bisevo, Croatia – near island vis
The Blue Cave Croatia, as everyone already knows, is located on a small Dalmatian island in the Adriatic Sea called Bisevo, just about two nautical miles southwest of the island of Vis, to which it gravitates. The Blue Cave was discovered as far back as 1884 when it was made a small entrance through which a boat enters. The cave itself is interesting as a natural phenomenon that manifests itself by glowing with fluorescent light from the bottom to the top, leaving you with the impression that you are hovering while swimming in it. The reason for this lies in the position of light and the angle at which it enters the opening under the sea, as well as a depth of maximum 20 meters. White pebbles that, in combination with the angle of light described earlier, give this unique and fantastic unnatural effect of fluorescence.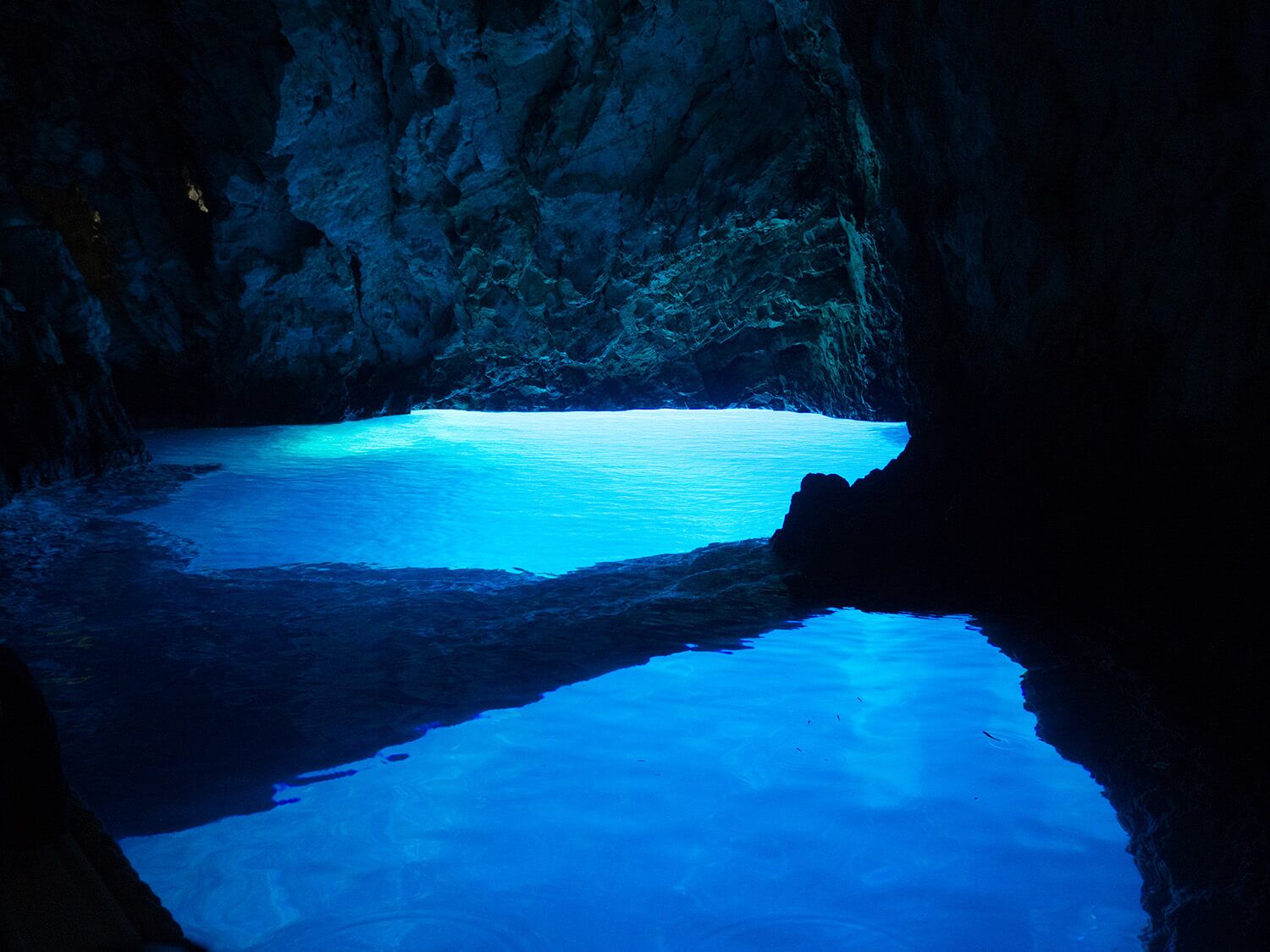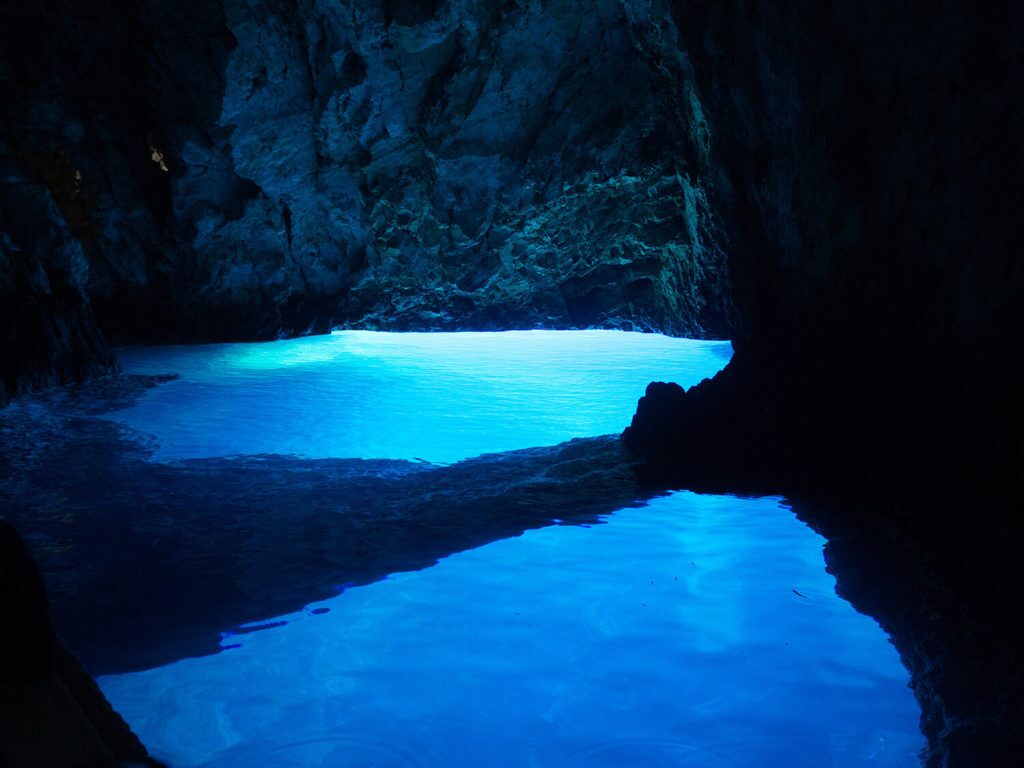 Bisevo – recent boat invasions
The island of Bisevo, on which the cave is located, is a really small island about six square kilometers in size and is connected by boat to the island of Vis, or more precisely to a small fishing village called Komiza on the island of Vis. Also in the last few years there have been many excursions and private boat tours from Split, Trogir, as well as other Central Dalmatian cities and islands towards the island of Bisevo and the Blue Cave, which has further popularized this small island.
POPULARITY CONTRIBUTION
Because the island itself is closely connected and dependent on Vis Island, the rapid popularization of Bisevo is certainly aided by the high tourist boom caused primarily by the island's extraordinary natural beauty, but also by the recent filming of a Hollywood movie hit called Mamma Mia Here We Go Again.
Of course, shooting such a spectacle with mega-stars such as Meryl Streep, Amanda Seyfried, Lily James, Cher, Pierce Brosnan, Colin Firth, Andy Garcia, Stellan Skarsgard and many others has greatly contributed to the additional popularization of Vis Island. Therefore, it is not surprising that the remote and hard-to-reach Barjoska Beach, which served as the stage in the movie, has now been renamed Mamma Mia beach and included in almost all tourist visits to the island of Vis, both sea and land.
SIMILAR NAMES
Blue caves is a term that someone maybe are searching but we have to inform you that there is only one popular Blue Cave in this area. That is the one on the Bisevo island in front of island Vis. Some other similar names: Blue Grotto, Modra špilja, Plava špilja.
Interested in private tour or daily tour?
We are here for you!
Contact us via chat, e-mail or mobile phone.